SPEEDY SWEEP® Sweeper | Cordless Floor Sweeper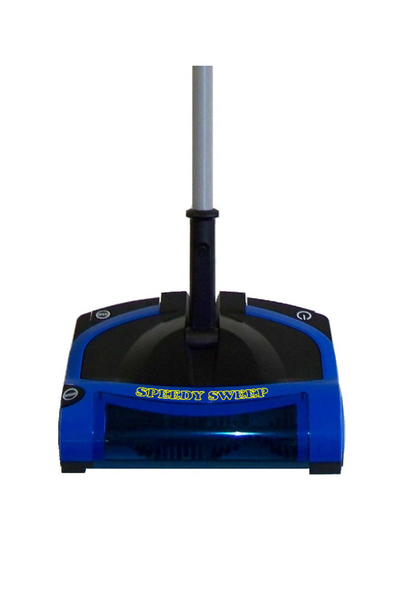 SPEEDY SWEEP® SS5000NM SWEEPER



The Speedy Sweep sweeper is a cordless battery floor sweeper for cleaning hard wood, tile, laminate, linoleum, concrete, carpeted floor surfaces and is the most durable, lightweight, incredibly powerful, longest running cordless floor sweeper available.

The Speedy Sweep sweeper is whisper quiet, quietly picks up around tables, work stations, rest rooms, hallways, class rooms, stairways, cafeterias and entrance mats without the obtrusive cord. Also great for cleaning, RV, boat and garage flooring.

The Speedy Sweep sweeper easily cleans dust, sand, All types of foods, hair, big or small floor debris, wet or dry surfaces and cleans big or small jobs.
Light weight - Only 4.6 lb. Cleans Big or Small jobs.
Compact and portable with soft rubber scratch resistant wheels that are ideal for cleaning flooring that can easily scratch pushing a heavy vacuum.
Nickel-metal-hydride battery" Runs up to 90 minutes with a energy saving geared motor.
Roller brush sweeps dirt and bulkier items into its dustpan, which is easily removed for emptying.
Titanium bushings for brush roller (will not wear out like brass bushing)
Non slip geared belt with Laser balanced brush roller & wheels for smooth & even operation.
Telescoping handle makes operating comfortable.
Virtually indestructible Hi impact housing & hood with see thru front housing to view any possible blockage.
17 ounce capacity dust bin is designed to seal dust from leaking into motor housing.
Comes with a wall mount for out of sight storage and includes a compact power adapter for charging.
Model: Speedy Sweep SS5000NM
Cleaning width: 12 inches.
Dust bin: 17 ounce capacity.
Battery: Nickel-metal-hydride battery