FootMate® Foot Scrubber Shower Mat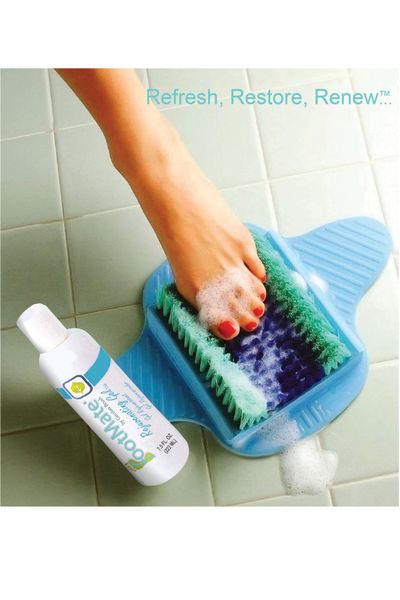 FootMate® Shower Foot Scrubber Mat



The FootMate

shower foot scrubber mat is a feet cleaner washer shower mat that will clean, smooth, stimulate and massage your feet when you shower without bending over.

The FootMate

Shower foot scrubber system and specially formulated gel goes on to foot scrubber to clean and massage the feet without having to bend over.

The FootMate's

wide gentle inner bristles massage tender soles, while the stiffer outer bristles smooth rough skin, calluses and stimulate circulation. The contoured bristles are shaped to cradle the foot for easy cleaning bottom and sides of the feet.

The FootMate

System leaves feet thoroughly cleaned, conditioned, and massaged, including the often neglected areas between the toes. The massage stimulates circulation and blood flow to the feet for a feeling of all-over well-being and health.

The FootMate

System is for anyone who wants to experience the benefits of a soothing foot massage while taking better care of their feet- people with diabetes, arthritis, back pain, athletes, pregnant women, etc.
Rejuvenating Gel™



A Natural antiseptic cleanser, and conditioner specially formulated for feet

Tea tree oil- A natural anti-fungal and germicidal.

Reduces susceptibility to athlete's foot.

Disinfects minor cuts/abrasions.

Aids in good toe nail health.

Gentle cleansers leaves feet clean and healthy.

Aloe Vera aids in healing and repair of skin

Natural conditioners leaves your feet feeling soft and supple.



The FootMate® System Includes:



( 1 ) Shower foot scrubber mat - Color: Light Blue

( 2 ) 7.5 oz (222 ML) bottle of Rejuvenating Gel™