CycloMop® CM500D Spin Mop with Dolly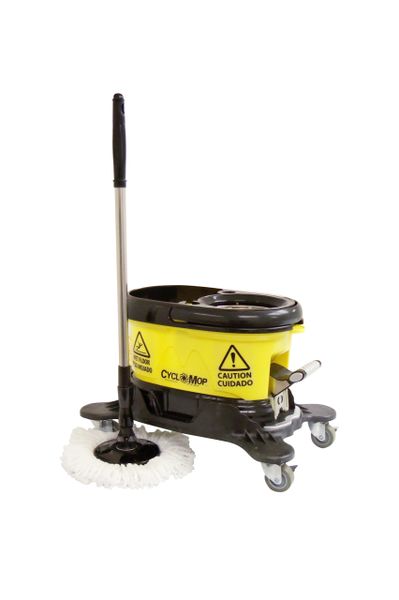 CycloMop® Commercial Spin Mop with Dolly Rated #1 Spin Mop 2016 Wiki Review

The CycloMop 500 series commercial spinning mop bucket with dolly system is "Heavy-duty enough for every-day commercial and residential use" 2X stronger than All the competitor models in the market place and is designed to hold-up in All the areas proven to wear-out with the lower cost models.
The CycloMop has a stainless steel mop spinner with dual action cleaning handle easily spin drys or washes the microfiber mop heads.
The CycloMop is the "Only" spin mop with a "1 piece adjustable mop handle" and the only spin mop that comes with a stainless steel mop disk for attaching or detaching the interchangeable mop heads. The 1 piece handle stands at 56 inches from the floor when fully extended and is adjustable down to 39 ½ inches with the mop head attached to meet All height requirements needed.
Comes with 2 X 16" round mop heads with increased water and dirt absorption makes it easier to clean faster.
The CycloMop has 2 options to spin wash and dry the mop head, Either use the foot pedal or the push down handle by unlocking the handle and simply push up or down. This option allows you to choose what's best for you. The New reinforced foot pedal components are designed to hold up to 2X longer and built stronger where All others spin mops fail overtime.
The CycloMop is also the "Only" spin mop designed with Caution / Wet floor logos regulated for safety by OSHA, which is required for business use. The CycloMOP® also has a water drain feature for emptying the bucket if needed.
The Cyclomop comes with (2) 16" microfiber mop heads with increased water and dirt absorption (1) Mop handle with a stainless steel mop disk (1) Mop bucket